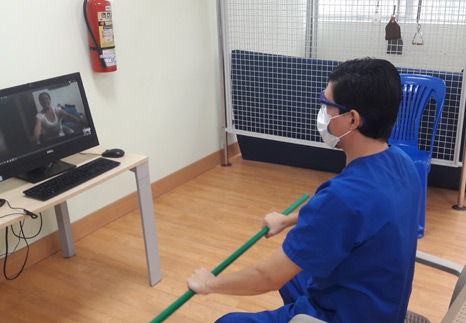 Tele-physiotherapy
Tele-physiotherapy is virtual physiotherapy, which uses telecommunications technology to conduct appointments at a distance. Tele-physiotherapy provides patient care including consultation, assessment, diagnosis, and treatment plan. It uses techniques such as video calling, email, and various applications.
Tele-physiotherapy is used to treat a variety of conditions which include:
Chronic pain in the neck, shoulder, back, knee, ankle.
Musculoskeletal conditions, frozen shoulder, disc herniation, etc.
Neurological conditions like multiple sclerosis, GB syndrome, etc.
Pediatric conditions like Delayed milestone.
Geriatric conditions like osteoarthritis.
Women's health problems like stress incontinence, pre, and postpartum weakness.
Vestibular disorders like migraine, vertigo, etc.
Benefits
Tele-physiotherapy services have various benefits, a few of them are mentioned below:
It is accessible, strikes-off the barriers like reaching remote areas or locations.
It provides a personalized program for the patient's condition.
Treatment is given in a comfortable home environment.
The physiotherapist and the patient have continuous interaction.
Patients feel more comfortable doing exercises as there is no time constrain.
It is convenient with no travel costs and time.
Promotes social distancing, the patient avails treatment without waiting in the clinic with other patients. It is safer and avoids the risk of catching infections.
Tele-physiotherapy services are easily available at the fingertips, getting assessed and treated by physiotherapy is more convenient than ever. To avail Tele-Physiotherapy services the person requires a phone or computer with a camera, a microphone, and a good internet connection. The patient can connect to a well-trained and experienced physiotherapist, book an appointment, and set a date. The physiotherapist takes the assessment, checks the patient's history and takes a note of the symptoms related to the condition, and accordingly designs a treatment program, schedule, sets, and repetitions of the exercises to be performed by the patient in the home environment. Further, the physiotherapist keeps a track of the prescribed treatment program through the web camera.
Patients who are too ill to travel to the physiotherapy clinic
Patients who live in far-flung areas,
Patients who have a family to take care of like children and old age people,
Patients who have transportation problems,
Patients who have time constrain.
Tele-physiotherapy is effective in the management of patients, it has various benefits for both the patient and the health system at large, it improves the quality of life and maximizes the usage of health services.